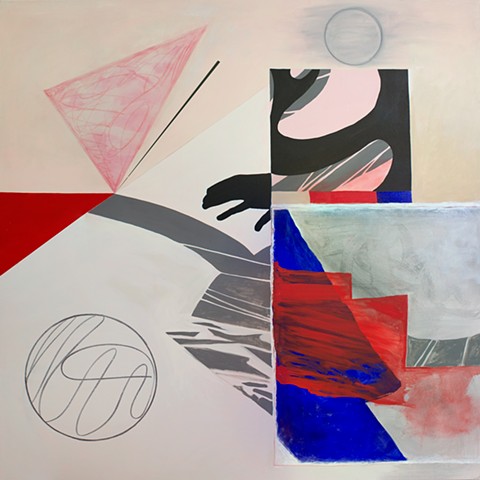 OPEN STUDIOS ARE HAPPENING ON FRIDAY JANUARY 21, 2022 FROM 7-10pm*
Visit my studio on the 4th Floor. (Space 4E3010)
*also open by appointment
Bridgeport Art Center
1200 W. 35th Street
Chicago, IL 60609
The parking lot is on the north side of the building–enter at Racine and 34th Place. For the Open Studios, you will enter the building through the Racine Street entrance.


BIOGRAPHY
Pamela Staker is a Chicago-based contemporary artist. She began as a Math Major at the University of Illinois at Urbana/Champaign and after 1 ½ years migrated to the Art Department where she graduated with a BFA in Painting.  Staker has received several grants and awards including an Illinois Arts Council Fellowship and a CAAP Individual Artist Grant from the City of Chicago, Department of Cultural Affairs. Her work is represented in numerous private and corporate collections including The Sophy Hyde Park, Chicago, IL, The Federal Reserve Bank of Chicago, Vanderbilt University, Nashville, TN, Capital One, Chicago, IL, and Cascade Hills Country Club, Grand Rapids, MI. Her studio is located at the Bridgeport Art Center (BAC) in Chicago and is available by appointment or once a month at the BAC Third Friday Open Studio Events.
 
WORK STATEMENT
Staker examines abstraction through a compiled visual language of urban elements, geometric shapes, bold color combinations, and pops of nature. Her process is energetic, creating works that are animated fragments of modern life.
Pamela's "Abstract Interior" series in particular is based on her tiny mixed media collage works with the paintings being up to 12 times the size of the studies. She is interested in the idea of going from very small to very large while staying true to the simplicity and minimal sensibility of the source image. These statement paintings become like gigantic pages out of a sketchbook.


SUBSCRIBE
I'll send you work I am most excited about and show announcements to your inbox every 4-6 weeks. Short, sweet, and not too often.


NEWS
Artist Spotlight (video) Bridgeport Art Center 2020
Complete database of my available works searchable by size, color, subject etc. Artwork Archive
I am pleased to share that I was recently commissioned by Art Advisory, Ltd. to create a large-scale (6-foot square) painting for Capital One.
I am thrilled to have several works in the permanent collection of the newly opened Sophy Hyde Park Boutique Hotel.
I am pleased to announce that I was selected for inclusion in the International Issue 13, June 2016 of Fresh Paint Magazine by curator Rebecca Wilson, Chief Curator and VP, Art Advisory at Saatchi Art.